Premium Collagen Beauty Elixir
Premium Collagen Beauty Elixir
$89.00 Retail
$71.20 Sub N Save 20% Off
Part of the Fuel Method.
Beauty Beyond Your Bare Naked Face
Welcome to the greatest collagen elixir on earth! With so many collagen products on the market proclaiming big fancy words and even bigger, fancier accolades, we found that every product we tried and tested both fell short when it came to the quality of ingredients and the results that were possible. Even the ones that LOOK premium. Through further scientific studies, we saw that many of the "top" collagen products on the market didn't even break down into the cells as collagen, but as a glorified protein, or what I like to call "upgraded sawdust". I know you came here for the good stuff, so you can imagine how excited I am to announce the only Collagen Elixir with real age-defying results! Not to mention the only collagen I'd trust in my body. Blended with our own CoVera collagen complex, a boost of hyaluronic acid for hydration, and a unique plant based vitamin delivery system that will radically transform. You can't help but see and feel a difference.
---
Our CoVera Complex in collaboration with our unique plant based vitamin delivery system means glowing skin and joint comfort.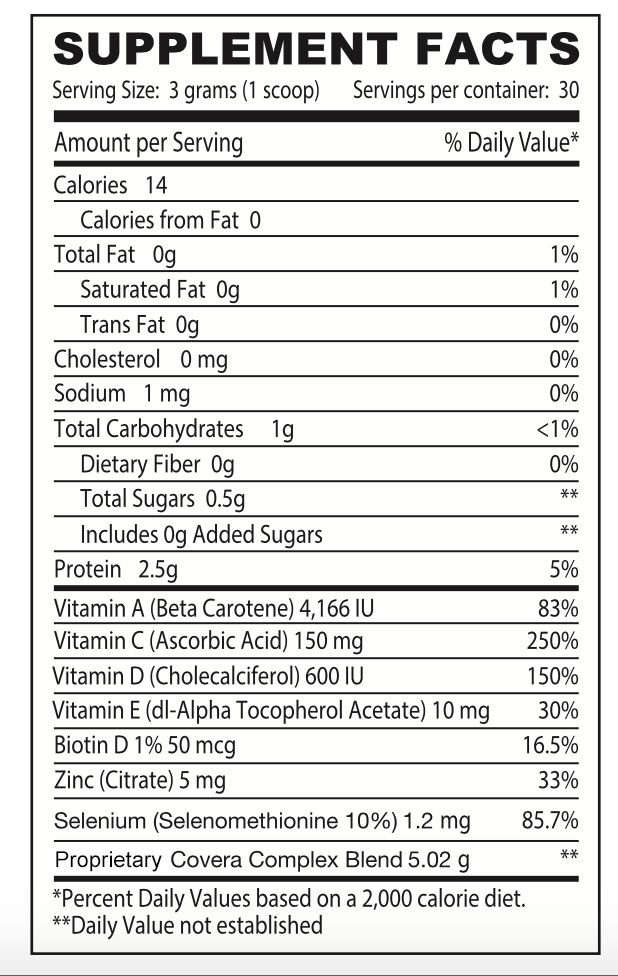 Collagen source is Australian bovine.
Add (1) serving to 4 fl oz of water or beverage one to two times daily. For best results, take AM and PM. Mix well and enjoy!
1 Container = 15 day supply/ 2 scoops a day or 30 day supply/ 1 scoop per day
FAQ - Premium Collagen Beauty Elixir
What is the shelf life?
Our supplements have a 1 year shelf life.
Where is it sourced?
Our collagen is sourced from the hide of organic grass-fed Australian Bovine.
Why hydrolyzed collagen 2?
Hydrolyzed collagen 2 is the only form of collagen that can be absorbed by cells as a complete collagen. Most other collagen molecules are digested (i.e. egg whites) and used by the body (treated like a protein) rather than absorbed. Hydrolyzed collagen 2 is incredible for all of it; hair, skin and nails.
How long until someone will notice results?
Some may notice immediate results, however it may take a couple weeks.
Can someone take too much collagen?
It is nearly impossible to overdose on collagen, however we recommend 1 loose scoop (not packed scoop) a day for results and 2 scoops a day for accelerated results.
Why 5 only grams?
Our collagen is the purest of the pure. Most other collagens list more grams, but are not using hydrolyzed collagen 2 and are essentially glorified protein drinks. They need to use more grams to even see any results, where- as our collagen is more effective and goes straight to the cell.
Can this be taken in hot beverages like coffee or tea?
Yes, our collagen is great in coffee, tea, smoothies or water.
Is this safe for pregnant or nursing women?
Definitely, it is especially wonderful for benefitting baby while growing in utero.
Will this help someone with pre-existing medical conditions?
As we are not medical professionals and these are not medical products we cannot claim that our supplements help with any health conditions. For any health concerns we recommend consulting your doctor.
Does the collagen have methylated folate?
If you want strictly methylated folate it has to be lab created. There is no such thing as food sourced whole mathelytated folate. The body does not process purely methylated folate - folate found in food is a combination of methyl folate and folate so because ours is food sourced, it is a combination of methylated and non methylated exactly as it comes from food.